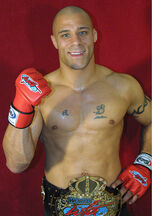 Frank Trigg is a middleweight mixed martial artist who has also fought at welterweight.
He fought most recently again for the UFC in another short stint at welterweight. He was cut from the promotion's roster once more after back-to-back (T)KO losses to Josh Koscheck and Matt Serra.
After being cut from the UFC, Trigg went back up to 185 to compete at middleweight outside the Octagon.
He next fought 1-0 undefeated Roy Neeman in Israel in his first fight since being cut from the UFC. Trigg handed Neeman his first loss via brutal first-round TKO. He next made his debut in BAMMA versus John Phillips. He defeated Phillips via brutal first-round doctor's stoppage due to a gruesome cut.
He was next set to face prospect Tom Watson for Watson's BAMMA middleweight title. The fight was Trigg's first big chance to break back into the rankings. Instead, Watson was injured and replaced by Bellator veteran Jim Wallhead. Wallhead pulled out the split decision victory over Trigg after a surprisingly good fight.
Trigg next called out fellow veteran and rival Jorge Patino at a catchweight. The fight never materialized and Trigg hasn't competed since the Wallhead loss in September 2011.
Ad blocker interference detected!
Wikia is a free-to-use site that makes money from advertising. We have a modified experience for viewers using ad blockers

Wikia is not accessible if you've made further modifications. Remove the custom ad blocker rule(s) and the page will load as expected.