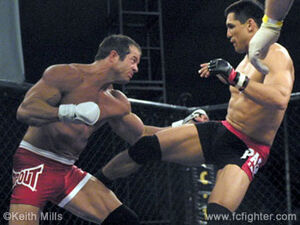 The fight was for the first-ever WEC light-heavyweight title and Frank Shamrock vacated it shortly afterwards to fight for Strikeforce. The fight, in 2003, was Shamrock's first since 1999. Bryan Pardoe had a signifigant height advantage.
The Fight
Edit
The first round began and they touched gloves. They circled. Shamrock landed a hard leg kick and Pardoe landed a right hand and stuffed a takedown turtling Shamrock up. Pardoe dumped Shamrock into half-guard against the cage. Shamrock regained guard after a moment. Not much happened. Shamrock locked up something and it was tight, an armbar and he had it and Pardoe tapped. It was all over. The crowd cheered. They hugged.
Ad blocker interference detected!
Wikia is a free-to-use site that makes money from advertising. We have a modified experience for viewers using ad blockers

Wikia is not accessible if you've made further modifications. Remove the custom ad blocker rule(s) and the page will load as expected.