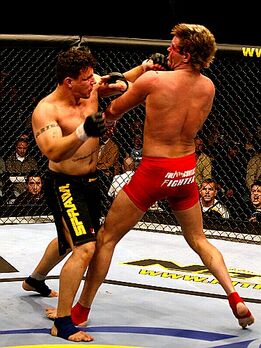 The fight was a rematch of their previous meeting where Sims had won by disqualification due to illegal foot stomps. Sims had a seven-inch height advantage.
The Fight
Edit
Sims looked like a 'caged animal' in his corner while Mir looked bored and unimpressed.The first round began. Mir landed a leg kick, landed an elbow, got the takedown into side control and then quickly into full mount. Sims threw some kidney punches. Sims tried to roll. Mir landed some ground-and-pound down and grabbed the arm from mount. Sims spun out of it and Mir went back to side control. Mir landed some more ground-and-pound. Mir rolled Sims over and got his back, softening Sims up with punches from the top. Sims rolled over and Mir got mount again. Mir threw a nice elbow. Mir began looking for an arm triangle and sank it in. Sims gave the thumbs-up, pointed to Mir and then held up a middle finger. Mir went back to just full mount. Sims threw some strikes from the bottom. Sims had a cut over his eye now and Mir's nose was bleeding. Twenty seconds remained. Mir landed a pair of big elbows and the crowd oohed. Another big elbow. The first round ended. Sims walked to the corner wobbling, cut up bad.
The second round began. Mir threw a leg kick, but Sims got the takedown. Mir got the takedown after standing, taking Sims down and going into full guard. Mark Coleman yelled 'let's go, do you want this or not?' from the corner. The referee stood the fight up and told them 'don't just lay there'. They clinched. Sims looked 'very arm-weary' as Goldberg noted. Mir looked weary as well, as Rogan said. Sims landed a good knee to the face in the clinch. Mir tried for the takedown and Sims sprawled. Sims landed some elbows to the body and then some kidney punches. Mir finally got the takedown and Sims pulled full guard once more. Mir looked very weary now. Mir threw a pair of elbows. The referee stood the fight up. Sims was bleeding bad. Mir landed a pair of knees in the clinch and then two strikes and Sims went down, knocked out.
Ad blocker interference detected!
Wikia is a free-to-use site that makes money from advertising. We have a modified experience for viewers using ad blockers

Wikia is not accessible if you've made further modifications. Remove the custom ad blocker rule(s) and the page will load as expected.