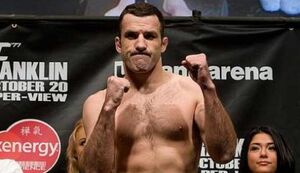 Forrest Petz is a fighter who formerly competed in the UFC's welterweight division. He had an unfortunate 2-3 record in the promotion with a pair of wins over Sam Morgan and Luigi Fioravanti before he also picked up a final loss to Josh Burkman and was cut from the promotion's roster.
He most recently finally returned to the UFC on short notice, replacing an injured Julio Paulino against Daniel Roberts. Roberts defeated Petz via a narrow decision.
Petz got another chance in the Octagon against well-rounded Brian Foster, losing via first round TKO. He was cut after the fight again. In his first fight out of the UFC, he defeated Herbert Goodman via unanimous decision. He next faced John Kolosci, winning via second-round technical knockout. He then faced Rudy Bears, winning via TKO.
Petz next faced Sergej Juskevic, defeating Juskevic via a comeback second round TKO after some early trouble from the Lithuanian Juskevic.
Petz is next set to face Canadian prospect Jordan Mein.
Ad blocker interference detected!
Wikia is a free-to-use site that makes money from advertising. We have a modified experience for viewers using ad blockers

Wikia is not accessible if you've made further modifications. Remove the custom ad blocker rule(s) and the page will load as expected.