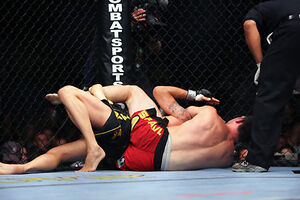 The fight was Bill Mahood's UFC debut, and Forrest Griffin's first fight after the victory over Stephan Bonnar to win the first season of The Ultimate Fighter.
The Fight
Edit
The first round began and they touched gloves. Griffin seemed to have a reach advantage. Griffin caught a leg kick and got the takedown to half-guard. Griffin landed some body shots. Four ten remaining. Mahood retained guard. Griffin went body-body-head. Griffin landed a few body shots. Griffin postured up. Mahood shoved him off, Griffin came down to side cotnrol. Mahood gave up his back and Griffin had one hook. Three fifteen. Griffin got the other hook in. Three minutes. Griffin grabbed the choke. He almost had it, yes he had it. Mahood tapped the arm with two minutes and forty-four seconds remaining. But he went out, and Griffin was spooning with him after he was already unconscious, a fact that he made light of in the post-fight interview with Rogan.
Ad blocker interference detected!
Wikia is a free-to-use site that makes money from advertising. We have a modified experience for viewers using ad blockers

Wikia is not accessible if you've made further modifications. Remove the custom ad blocker rule(s) and the page will load as expected.