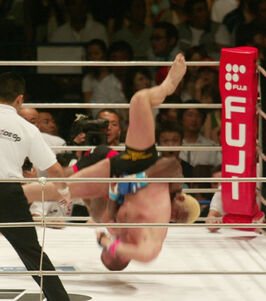 Although Emelianenko won by kimura submission, the fight featured one of the most dynamic slams in mixed martial arts history, when Randleman dumped Emelianenko on his head like a sack of potatoes, cracking two of his ribs.
The Fight
Edit
The first round began. Randleman danced around for a moment while Fedor looked on impassively. Randleman charged in for the takedown into the corner, picked Fedor up and laid him down by the ropes into half-guard position. Fedor tried to roll out and stand and Randleman stood as well, taking Fedor's back. He delivered the infamous suplex and ended up in north-south position. Fedor struggled into side control and landed some strikes from the top, repeated strikes to Randleman's left ear. Fedor grabbed Randleman's right arm to set up a kimura. He sank in the kimura and Randleman screamed hoarsely and tapped out. Randleman picked up Fedor and the fighters hugged. Fedor cracked two ribs after the suplex.
Ad blocker interference detected!
Wikia is a free-to-use site that makes money from advertising. We have a modified experience for viewers using ad blockers

Wikia is not accessible if you've made further modifications. Remove the custom ad blocker rule(s) and the page will load as expected.