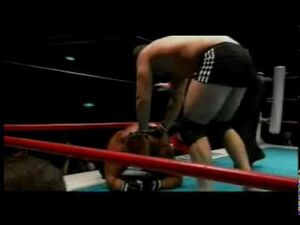 The fight was to decide the winner of the RINGS Absolute Class Tournament, the last tournament ever held by RINGS.
The Fight
Edit
The first round began. Fedor landed a right hand immediately and dropped Haseman and Hasemen tried for a single but the referee paused it and gave Haseman the eight-count. Fedor landed a big right hand and Haseman got a single leg to half-guard and then had the stadning back and a suplex onto his face and he had Fedor's back and turned on top to side control and transitioned to the other side as well. Hasemen was holding Fedor down, he tried an armbar, Fedor escaped and landed a body shot and they stood, Haseman was looking for a single-leg. Fedor landed some body shots. Haseman had the standing back again but turtled up. Haseman was on one knee. Haseman dodged a right hook as they broke and shot in, Fedor was working a tight guillotine through the ropes. Haseman was turtled up and he ate a body shot. Another big body shot. He stood, Fedor worked a standing guillotine, Haseman collapsed to his knees. The referee separated them and they continued. Haseman landed a leg kick and ate a right and dropped, grabbed for a leglock and Fedor was defending. Fedor landed a body shot. Fedor was on top in half-guard, he turtled Haseman up and they broke, Haseman ate an uppercut and another and dropped hard on his back and it was all over, Haseman had lost by points, dropped too many times. Fedor won.
Ad blocker interference detected!
Wikia is a free-to-use site that makes money from advertising. We have a modified experience for viewers using ad blockers

Wikia is not accessible if you've made further modifications. Remove the custom ad blocker rule(s) and the page will load as expected.