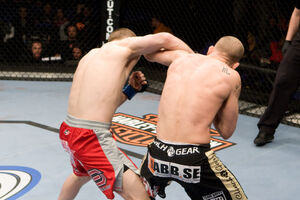 The lightweight bout was undefeated Evan Dunham's UFC debut. After the fight, Per Eklund was cut.
The Fight
Edit
The first round began. They touched gloves. Dunham landed a good left and staggered Eklund, grabbed a guillotine with full guard. Eklund got out but took an elbow on the way out. Eklund stood up and Dunham did as well but Eklund went right back to the takedown into half-guard, catching Dunham with a big punch on the way down. Now Dunham ended up on top. Eklund landed some strikes from the bottom, went for an armbar. Dunham escaped to his feet and they circled. Eklund landed a head kick. Dunham landed a body shot. Eklund landed a right hand. Dunham landed a stiff jab. Eklund landed a body kick. Dunham landed a good combination. Dunham sent Eklund to the ground with a straight left for the knockout victory and remaining undefeated.
Ad blocker interference detected!
Wikia is a free-to-use site that makes money from advertising. We have a modified experience for viewers using ad blockers

Wikia is not accessible if you've made further modifications. Remove the custom ad blocker rule(s) and the page will load as expected.