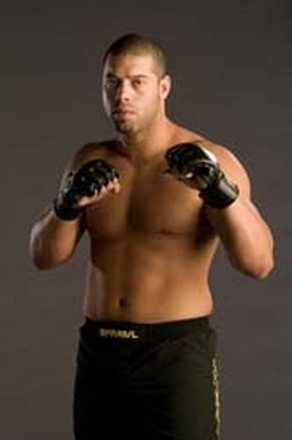 Eddie Sanchez is a fighter most known for his uneventful stint in the UFC's heavyweight division, gaining a few wins against fighters who weren't well-known and earning a defeat from famed kickboxer Mirko Filipovic in Filipovic's UFC debut. A few wins later, Sanchez was cut from the UFC following a pair of back-to-back losses to Antoni Hardonk and Justin McCully.
He is currently signed with Bellator to compete in their heavyweight tournament to crown the promotion's first heavyweight champion. He faced Neil Grove in the tournament's opening round, losing via dominant knockout loss. He next faced fellow UFC veteran Mike Whitehead and lost a close decision.
He was next set to face former WWE wrestler and Strikeforce veteran Bobby Lashley. Lashley pulled out very shortly after the fight was announced. Sanchez next made his Titan FC debut against fellow promotional newcomer and Strikeforce veteran Brett Rogers. He defeated Rogers via split decision.
Ad blocker interference detected!
Wikia is a free-to-use site that makes money from advertising. We have a modified experience for viewers using ad blockers

Wikia is not accessible if you've made further modifications. Remove the custom ad blocker rule(s) and the page will load as expected.