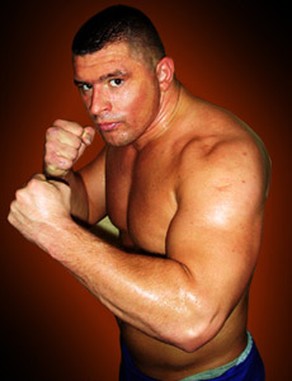 Denis 'The Menace' Stojnic is a fighter best known for his two-fight stint in the UFC, being cut from the promotion's roster after back-to-back losses to Cain Velasquez and Stefan Struve.
Stojnic most recently fought former UFC heavyweight champion Ricco Rodriguez earning an early technical knockout stoppage that was soon overturned to a no-contest. A rematch was scheduled.
Stefan Struve vs. Denis Stojnic - The fight was billed as a loser-leaves-UFC match. Stefan Struve was pumped up for it, playing to the crowd as he was introduced. After the fight, Stojnic was cut from the UFC's roster but during the fight, Struve was cut by an elbow in one of the bloodiest fights in UFC history.
Ad blocker interference detected!
Wikia is a free-to-use site that makes money from advertising. We have a modified experience for viewers using ad blockers

Wikia is not accessible if you've made further modifications. Remove the custom ad blocker rule(s) and the page will load as expected.