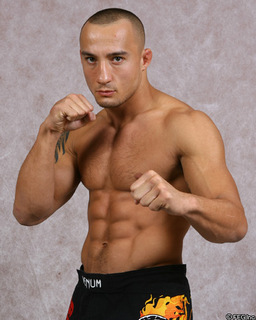 Denis Kang is a Pride and UFC veteran. He was cut from the UFC after a loss to Michael Bisping.
He most recently faced former WEC middleweight champion Paulo Filho in his first fight since leaving the UFC, winning in my opinion but the official decision was a split draw.
He was next set to face fellow UFC veteran Jesse Taylor. Before the fight with Taylor was set to occur, Kang also signed with upstart Korean promotion Road FC. Kang pulled out of the bout for unknown reasons. He instead faced Eun Soo Lee at light-heavyweight, defeating Lee via unanimous decision after a bizarre bout. He accepted Lee's request for a rematch, provided that the bout would occur at Kang's natural weight of 185 pounds.
Regardless, Kang next faced Taylor. In an upset victory, Taylor submitted Kang in the first round with a rear-naked choke.
Kang continued to fight in the Korean promotion, next facing Seung Bae Whi. Kang lost via knee to the head on the ground in the second round. The fight earned Fight of the Night honors, however.
Kang next fought in Road FC again against fellow Pride veteran Shungo Oyama. After a strong start from Kang, Oyama finished Kang with punches for a TKO victory near the end of the bout's first round after a great Pride-esque fight.
Kang then faced Hae Suk Son, winning via first round knockout.
Kang next returned to Dream against Strikeforce/Dream veteran Melvin Manhoef. Manhoef knocked Kang out in just fifty seconds with a huge left knee to the body.
Ad blocker interference detected!
Wikia is a free-to-use site that makes money from advertising. We have a modified experience for viewers using ad blockers

Wikia is not accessible if you've made further modifications. Remove the custom ad blocker rule(s) and the page will load as expected.