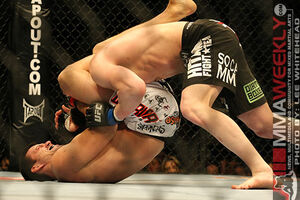 The fight was veteran Chael Sonnen's return to the UFC.
The Fight
Edit
The first round began. They touched gloves. Maia landed a body kick, which Sonnen caught and shoved Maia down but let him up. Maia landed another body kick. Sonnen landed an inside leg kick. Maia landed a body shot. Maia went for the takedown and Sonnen showed off a good sprawl. Maia got the double underhooks on the ground. Sonnen stood up. Maia landed a jab from the bottom. They grappled on the ground. Sonnen stood once more and landed a thigh kick. They continued grappling. Maia got full guard. Sonnen stood up and let Maia up. Sonnen landed a good one-two combination. They clinched. Maia got the throw takedown to full mount. Maia locked in a tight triangle and Sonnen was forced to tap. The fighters hugged. Wanderlei Silva patted Maia's back, proud that his partner had won.
Ad blocker interference detected!
Wikia is a free-to-use site that makes money from advertising. We have a modified experience for viewers using ad blockers

Wikia is not accessible if you've made further modifications. Remove the custom ad blocker rule(s) and the page will load as expected.