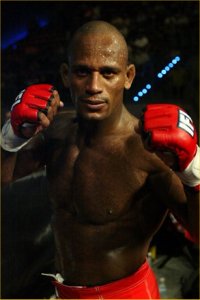 Delson Heleno
is a Brazilian jiu jitsu expert and a former IFL standout. He was a finalist in the IFL welterweight grand prix and faced off against
Jay Hieron
for the vacant welterweight title in the finals.
He most recently defended his Art of Fighting welterweight title against Waachiim Spiritwolf defeating him via clear-cut unanimous decision. Delson next faced Jucelino Ferreira, winning via first-round armbar submission.
He was next set to face Luis Dutra Jr. Dutra Jr. was unfortunately injured and replaced by Gil de Freitas. De Freitas took sick as well and was forced to pull out. Heleno stepped in to replace an injured Murilo Bustamente in the main event against veteran Yuya Shirai. Heleno defeated Shirai via majority decision.
Not sure what may have happened between then at this moment but Heleno next competed on the first all-Brazilian season of The Ultimate Fighter at 185 pounds. He made his UFC debut in Brazil against castmate and prospect Fransisco Trinaldo, losing via first-round technical knockout.
Ad blocker interference detected!
Wikia is a free-to-use site that makes money from advertising. We have a modified experience for viewers using ad blockers

Wikia is not accessible if you've made further modifications. Remove the custom ad blocker rule(s) and the page will load as expected.