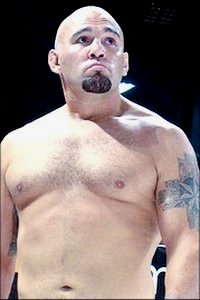 David Heath is a fighter best known for his short stint in the UFC's light-heavyweight division. He was cut from the promotion's roster after losses to current UFC light-heavyweight champion Lyoto Machida, former Strikeforce light-heavyweight champion Renato Sobral in a controversial fight, and a debuting Tim Boetsch. He floated about in smaller promotions, settling primarily with the Canada-based Maximum Fighting Championships.
Notably, he was set to replace Travis Galbraith against Murilo Rua on the first pay-per-view card for Shine Fights on May 16, 2010. Contractual issues with one of the main event fighters, boxer Ricardo Mayorga, shot the card down. Many of the fighters weren't paid, including Heath, and he decided to file a suit against the promotion in September, just in time for their next card: their second pay-per-view attempt.
He most recently faced Solomon Hutcherson at middleweight in the MFC. After a dominant first round by Hutcherson in which he got his nose broken from the bottom by a Heath punch or elbow, Heath came back to dominate the second round himself. He eventually knocked Hutcherson out with a Superman right punch from hell.
He was next set to face Glover Teixeira in MFC, but Teixeira pulled out of the fight and UFC veteran Rodney Wallace replaced him on about a week's notice. Heath dropped a close unanimous decision loss to Wallace. He is next set to face Marvin Eastman.
Ad blocker interference detected!
Wikia is a free-to-use site that makes money from advertising. We have a modified experience for viewers using ad blockers

Wikia is not accessible if you've made further modifications. Remove the custom ad blocker rule(s) and the page will load as expected.