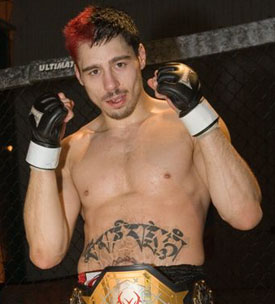 Dan Hardy is a British welterweight fighter. He was the first British fighter to get a title shot in the UFC's history, losing a very dominant decision to welterweight champion Georges St. Pierre.
He next faced former WEC welterweight champion Carlos Condit. Hardy before the fight talked a lot, as always. His most prominent and repetitive comment indicated that he was going to "choke Condit out" in the second round, for the Submission of the Night bonus. Condit stood with Hardy and knocked him out in the first round. It was the first time Condit scored a knockout and the first time Hardy had been knocked out.
He was next rumored to face Paulo Thiago. Both men are coming off a pair of losses and despite their high status in the welterweight rankings, it might be considered to be a loser-leaves-town matchup. He instead faced heavy-handed Anthony Johnson, losing via unanimous decision. Afterwards, Hardy wasn't cut from the ranks of the UFC despite losing three fights dominantly in a row.
He next faced veteran striker and fan favorite Chris Lytle. Lytle stated that the fight would be his last and he would retire afterwards. Hardy stated that he was honored to be Lytle's last MMA opponent. Lytle defeated Hardy via third-round guillotine choke submission to hand the Brit his fourth straight loss. Hardy was afterwards cut from the UFC.
Hardy next went on a tentative hiatus; he was on unsteady ground with the UFC now and he knew it. Four straight losses inside the Octagon. No matter how popular Hardy had once been all over the world, he was soon going to be cut from the UFC. He called out former UFC welterweight champion and UFC Hall of Famer Matt Hughes. Hughes didn't even seem to notice.
Hardy next faced hard-hitting veteran Duane Ludwig. He knocked Ludwig out in the first round with a left hook and a series of elbows. Hardy then faced TUF winner Amir Sadollah, beating Sadollah via unanimous decision in his hometown of Nottingham, England.
Hardy was next rumored to face American brawler Matt Brown. He confirmed the signing in January 2013. During the training for the Brown fight, Hardy talked imminent retirement from the sport in 2014. Unfortunately Hardy was injured a few weeks before the Brown bout and was replaced by Strikeforce prospect Jordan Mein.
Ad blocker interference detected!
Wikia is a free-to-use site that makes money from advertising. We have a modified experience for viewers using ad blockers

Wikia is not accessible if you've made further modifications. Remove the custom ad blocker rule(s) and the page will load as expected.