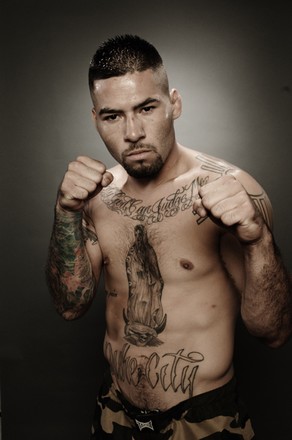 Damacio Page a bantamweight fighter who formerly fought for the UFC and the WEC, and was considered to be the latter organization's version of the violent Wanderlei Silva.
He was most recently set to face former bantamweight champion Eddie Wineland. Wineland was injured and replaced by Demetrious Johnson. After a close first two rounds, Johnson choked Page out in the third round with an impressive guillotine submission.
Page next made his UFC debut after the merger in a rematch against former bantamweight champion Brian Bowles. It was the exact same result as the first fight: Bowles won via guillotine choke at 3:30 of the first round.
Page was next set to face veteran Norifumi Yamamoto but unfortunately both men were injured and the bout was scrapped.
After recovering, Page next signed on to face the equally exciting fighter, Brad Pickett. Pickett defeated Page via rear-naked choke submission near the end of the second round. Both men earned FOTN honors.
Page earned one last chance in the UFC against TUF vet Alex Caceres, unfortunately losing via second round triangle choke submission. He was then cut from the UFC.
After a layoff of several months, Page next signed with the LFC promotion to make his debut against Patrick Ybarra. Page snapped a four-fight losing streak with a devastating first round knockout to hand Ybarra his first loss.
Page then fought outside the LFC against Marcelo Costa losing a split decision.
Page next signed to return to the LFC against Matt Lozano.
Ad blocker interference detected!
Wikia is a free-to-use site that makes money from advertising. We have a modified experience for viewers using ad blockers

Wikia is not accessible if you've made further modifications. Remove the custom ad blocker rule(s) and the page will load as expected.