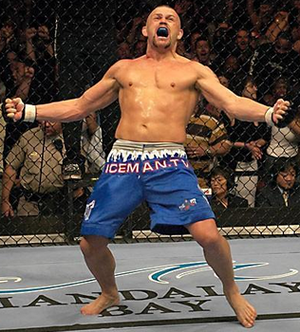 Chuck "The Iceman" Liddell is the retired former UFC light-heavyweight champion and the only man to defeat Randy Couture more than once (he beat him twice, both times by vicious knockout). Liddell is known as the Iceman, for his ability to end the fight in one vicious overhand right to the face. He was the coach on the very first season of The Ultimate Fighter reality show opposite Couture. He is a UFC Hall of Famer.
He most recently faced off against Rich Franklin and lost after an entertaining first round, eating a right hook from Franklin that knocked him unconscious with five seconds remaining. Liddell officially retired at the UFC 125 press conference on December 29, 2010. Dana White announced at the conference that Liddell had been appointed the new UFC Vice President of Business Development.
Ad blocker interference detected!
Wikia is a free-to-use site that makes money from advertising. We have a modified experience for viewers using ad blockers

Wikia is not accessible if you've made further modifications. Remove the custom ad blocker rule(s) and the page will load as expected.