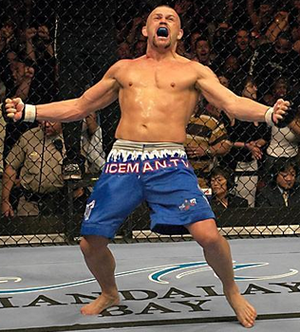 Chuck "The Iceman" Liddell is the former UFC light-heavyweight champion and the only man to defeat Randy Couture more than once (he beat him twice, both times by vicious knockout). Liddell is known as the Iceman, for his ability to end the fight in one vicious overhand right to the face. He was the coach on the very first season of The Ultimate Fighter reality show opposite Couture. He is a UFC Hall of Famer.
He most recently faced off against Rich Franklin and lost after an entertaining first round, eating a right hook from Franklin that knocked him unconscious with five seconds remaining. Liddell officially retired at the UFC 125 press conference on December 29, 2010. Dana White announced at the conference that Liddell had been appointed the new UFC Vice President of Business Development.
Golden Boy MMA: Tito Third
Edit
About seven and a half years after retiring, at the age of 48, Liddell signed to return under the banner of Golden Boy MMA promoted by legendary boxer Oscar de la Hoya, to fight old foe Tito Ortiz, who was also coming off a much shorter retirement.