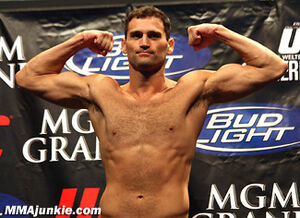 Chris Wilson is a former fighter in the UFC welterweight division but he was cut from the promotion's roster after back-to-back losses to John Howard and Mike Pyle.
He most recently faced Keith Wisniewski, losing via unanimous decision.
He then fought Wellington Oliveira defeating Oliveira via rear-naked choke submission near the end of the fight's first round.
He next fought nearly a year later against Irwing Machado again in Brazil defeating Machado via first round brabo choke submission.
Wilson is next set to face Leandro Silva, again in Brazil.
Ad blocker interference detected!
Wikia is a free-to-use site that makes money from advertising. We have a modified experience for viewers using ad blockers

Wikia is not accessible if you've made further modifications. Remove the custom ad blocker rule(s) and the page will load as expected.