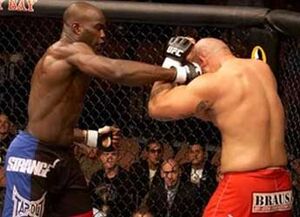 The fight was the UFC debut of Cheick Kongo.
The Fight
Edit
The first round began. They circled. They clinched after a moment. Kongo landed aknee to the body. Aldana got an excellent double leg to side control. Aldana had the crucifix landing big shots in under and some more big shots. Kongo escaped the crucifix. Four ten. Four minutes. He was back in the crucifix. Aldana landed a few more shots in under. Three thirty. The referee stood them up with three twenty. Kongo landed a leg kick and Aldana got another double to side control. Three minutes. Kongo landed some elbows from the bottom, five or six. Two thirty. The referee warned Aldana again. He was warned again. Two minutes. Aldana landed a pair of hammerfists, some more. Kongo turtled up. He stood and got a single of his own to side cotnrol against the fence with three elbows and turtled Aldana up. Theys tood to the clinch, Kongo landed a pair of knees and an elbow inside, Aldana was cut over the right eye, he ate another pair of knees to the face and they clinched, Kongo landed another knee to the body and a right hand, another trio of knees, an uppercut and a right hand and an uppercut and a trio of knees. The referee paused the fight to check the cuts. That was a decent cut. The doctor stopped it and Aldana collapsed to his knees emotionally.
Ad blocker interference detected!
Wikia is a free-to-use site that makes money from advertising. We have a modified experience for viewers using ad blockers

Wikia is not accessible if you've made further modifications. Remove the custom ad blocker rule(s) and the page will load as expected.