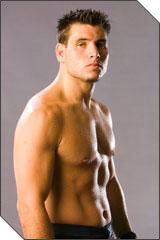 Charles McCarthy is a retired former middleweight mixed martial arts fighter.
Charles McCarthy vs. Gideon Ray - After the fight, Gideon Ray was cut from the UFC, again. The fight was McCarthy's first win in the UFC.
Michael Bisping vs. Charles McCarthy - The fight was Michael Bisping's middleweight debut and after the fight, McCarthy retired from mixed martial arts due to a forearm injury he sustained blocking a barrage of knees and uppercuts from Bisping at the end of the fight's first round. McCarthy repeatedly taunted Bisping during the fight.
Ad blocker interference detected!
Wikia is a free-to-use site that makes money from advertising. We have a modified experience for viewers using ad blockers

Wikia is not accessible if you've made further modifications. Remove the custom ad blocker rule(s) and the page will load as expected.