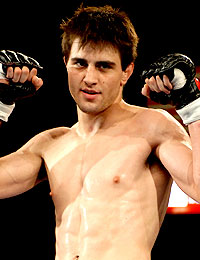 Carlos Condit
is the former UFC interim welterweight champion and the former WEC welterweight champion.
Road to the Title
Edit
Carlos won his most recent fight in an incredible comeback handing twenty-year-old prospect Rory MacDonald his first loss with vicious ground and pound, as seven seconds remained in the fight.
He next faced Dan Hardy. Hardy before the fight talked a lot, as always. His most prominent and repetitive comment indicated that he was going to "choke Condit out" in the second round, for the Submission of the Night bonus. Condit stood with Hardy and knocked him out in the first round to earn a Knockout of the Night award. The fight was the first time Condit had knocked someone out with a punch, and it was the first time Hardy had been knocked out.
Chris Lytle called out the winner of the fight and he got his wish, facing Condit. Condit suffered an injury just under three weeks before the fight and pulled out. Replacements such as Dong Hyun Kim and Mike Pierce were discussed. Instead, Lytle welcomed newcomer Brian Ebersole. Condit was next set to replace an injured Jon Fitch against former UFC lightweight and welterweight champion B.J. Penn. Penn also pulled out with an injury. He was replaced by officially undefeated Dong Hyun Kim.
Before the fight with Dong Hyun Kim -- which was rumored to be for a title shot -- Condit stated ""Not only am I going to beat Dong Hyun Kim, I'm going to finish him." Condit defeated Kim via first round technical knockout, handing him his first official loss.
Condit was soon in talks to face Penn again and soon they had both agreed to the bout. Howvever, Condit was soon pulled from the bout to replace Nick Diaz against UFC welterweight champion and training partner Georges St. Pierre for the title. About a week before the bout, St. Pierre suffered a knee injury and the fight was unfortunately scrapped altogether. Former contender Josh Koscheck challenged Condit to accept his offer to replace St. Pierre against Condit. Condit accepted Koscheck's challenge to fight him and the matchup was scheduled for UFC 143.
Instead, St. Pierre was injured and forced to pull out of the bout against Nick Diaz and unfortunately go through with a very risky knee surgery. Condit stepped in to replace St. Pierre against Diaz and they would now fight for the UFC interim welterweight title.
Condit defeated Diaz via a close and controversial unanimous decision to become the UFC interim welterweight champion. In November 2012, Condit faced St. Pierre losing a competitive unanimous decision. He was then called out by rival Rory MacDonald for a rematch and Condit accepted.=
After the Title: Second Run
Edit
The rematch was set up for March 2013 in Montreal, Canada. McDonald was injured about a month before the fight and replaced by title contender Johny Hendricks. The fight was announced to be a welterweight title contention bout, a huge opportunity for both men. Hendricks ended up defeating Condit via a close and competitive unanimous decision, one of the most exciting fights of 2013 to that point.
Condit next worked extensively on his wrestling and he was rumored to fight a rematch against Nick Diaz.
Instead Condit next signed to fight a rematch against long-time rival Martin Kampmann. He defeated Kampmann via a dominant and bloody fourth round TKO.
Condit was next set to face fellow contender, the 'technical brawler' Matt Brown. Brown was injured just a week or two before the fight was set to take place in early December 2013. The fight itself was scrapped and Condit was moved to an early 2014 card.
Condit was next offered a rematch against Nick Diaz for the next title shot against the winner of the fight between Robbie Lawler and Johny Hendricks for the title recently vacated by Georges St. Pierre. Condit immediately accepted the fight while Diaz turned it down.
Condit instead signed to fight Strikeforce veteran Tyron Woodley presumably for the same opportunity. Condit unfortunately was forced to succumb to a technical knockout loss after he suffered a knee injury in the second round.
After an extensive and frustrating recovery Condit returned to fight veteran contender Thiago Alves. Condit and Alves went to war with Condit ultimately winning via a doctor stoppage between the second and third rounds after smashing Thiago's nose with an elbow during a standing exchange. (The elbow dropped Alves significantly as well and nearly finished him, but he showed heart).
Fighting for the Title Again! The Fight of the Year
Edit
The victory unexpectedly earned Condit a shot at the UFC welterweight title held by Robbie Lawler. Lawler and Condit went to war in a battle that will no doubt stand the test of time as one of the greatest fights ever. Lawler was awarded a split decision victory at the end, unfortunately for Condit. The decision was considered to be extremely close, controversial and was intensely debated.
Retirement Talk, Third Title Run?
Edit
Condit took some time off before returning later that summer to fight contender Demian Maia. Maia took Condit down quickly, hurt him with ground-and-pound before submitting him via a rear-naked choke submission in just under two minutes total.
After the fight Condit very seriously contemplated retirement and many in the MMA community considered him to be on the sad and dusty "unofficially retired" shelf.
In late summer 2017 Condit announced his intent to return; by early fall he had signed to return against a troubled (but talented) journeyman in the Ultimate Fighter and U.S. military veteran Neil Magny. Before the fight Condit was quoted as saying "I got mouths to feed, bills to pay and no backup plan."