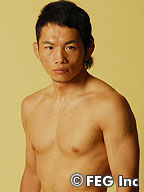 Caol Uno is a veteran lightweight fighter. In his brief three-fight return to the UFC in 2009 and 2010, Uno dropped a decision to Spencer Fisher, picked up a draw to debuting prospect Fabricio Camoes and lost a brutal TKO to the much larger lightweight monster Gleison Tibau. He was cut after that fight.
Uno next dropped to featherweight to return to Dream to face off against Kazuyuki Miyata at the year-end Dynamite show. Miyata defeated Uno via dominant unanimous decision. He remained in Dream to face Akiyo Nishiura. He defeated "Wicky" via unanimous decision.
He next faced veteran Takeshi Inoue, losing via highlight-reel first round knockout.
Ad blocker interference detected!
Wikia is a free-to-use site that makes money from advertising. We have a modified experience for viewers using ad blockers

Wikia is not accessible if you've made further modifications. Remove the custom ad blocker rule(s) and the page will load as expected.