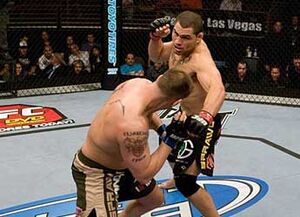 Cain Velasquez came into the fight undefeated of course. They had met before in a wrestling competition, years before their MMA careers.
The Fight
Edit
The first round began. They exchanged in close with Velasquez landing a few shots, Velasquez got the whizzer to get O'Brien down to side control landing short shots. O'Brien trying to stand, he turtled up a little bit. Four twenty. Velasquez was manhandling O'Brien. Velasquez back on top to side control. Four minutes. Velasquez got the crucifix landing punches over and over, fast uncountable shots, just over and over, fifty or sixty punches, over and over and over and over and over and over. Three twenty-five. O'Brien was getting dazed. More and more now. More and more, forehead. Boom boom boom. More and more and more. Three minutes and the referee stopped the fight.
Ad blocker interference detected!
Wikia is a free-to-use site that makes money from advertising. We have a modified experience for viewers using ad blockers

Wikia is not accessible if you've made further modifications. Remove the custom ad blocker rule(s) and the page will load as expected.