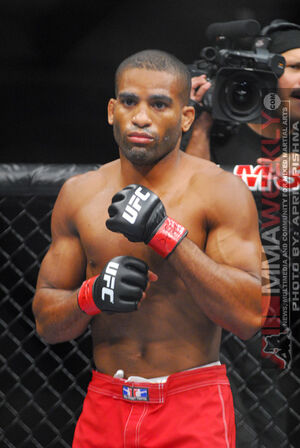 'Bad' Brad Blackburn is a fighter who has competed in both the IFL and the UFC, and he was cut after a two-fight losing streak in that promotion with back-to-back losses to TUF alumni Amir Sadollah and Damarques Johnson.
Blackburn was set to face John Alessio for his first fight since being released from the UFC, but he was injured and replaced by War Machine. He made his Bellator debut versus dangerous Dan Hornbuckle. Blackburn lost a close yet unanimous decision to the well-rounded Hornbuckle in a back-and-forth war.
Blackburn next fought Jory Erickson losing via first round technical knockout in February 2011 and hasn't fought since then.
Ad blocker interference detected!
Wikia is a free-to-use site that makes money from advertising. We have a modified experience for viewers using ad blockers

Wikia is not accessible if you've made further modifications. Remove the custom ad blocker rule(s) and the page will load as expected.