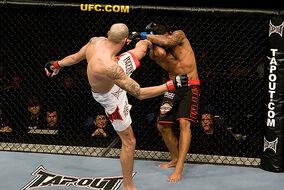 The fight was a brutal display of Muay Thai expertise from Ben Saunders, and the UFC debut of Brandon Wolff.
The Fight
Edit
The first round began and the fighters touched gloves. Saunders threw an inside leg kick, apparently a groin shot. Wolff walked it off as the crowd of soldiers booed loudly. The fighters came back out and touched gloves. Saunders got the Muay Thai clinch, threw the knees, landed a head kick, grabbed the clinch again, landed more hard, hard knees in the clinch, they broke, Saunders landed two good head kicks, they clinched, Saunders landed two knees. Saunders landed a head kick. They clinched and Saunders threw more crushing knees repeatedly. Saunders threw a high knee to the body. Saunders threw more knees. Wolff's face was bloodied up horribly. Saunders threw more knees. Wolff collapsed. The fight was over. The crowd roared.
Ad blocker interference detected!
Wikia is a free-to-use site that makes money from advertising. We have a modified experience for viewers using ad blockers

Wikia is not accessible if you've made further modifications. Remove the custom ad blocker rule(s) and the page will load as expected.