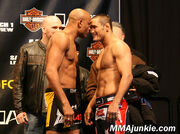 The fight was a unification of the Pride welterweight (185 lbs.) belt -- defended by Dan Henderson -- and the UFC middleweight (185 lbs.) belt, defended by Anderson Silva.
The Fight
Edit
The first round began, and the fighters came out and Dan offered his glove to touch; Anderson didn't respond. They circled in the 'feeling-out process'. Henderson landed a pair of leg kicks. They circled for a bit. Silva landed an inside leg kick. Henderson tried to come over the top and ate an uppercut. Silva landed a straight front kick to Henderson's chest. They circled for a bit more. Silva tried for a head kick. They clinched and Henderson took Silva down, moving to half-guard. Henderson landed an elbow from the top. Henderson landed continual shots to the side of Silva's temple, hammerfisting. Henderson landed a big elbow. Henderson continued hammerfisting away. Thirty seconds remained. Henderson transitioned to side control. Silva struggled back to guard. Ten seconds remained. Henderson landed an elbow a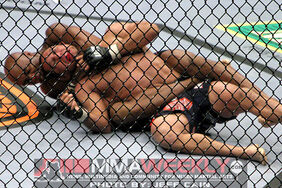 nd then a big strike. The first round ended. The crowd gave a standing ovation to Henderson.
The second round began, and the fighters came out. Silva tried for a body kick. Henderson landed two big overhand rights and then an uppercut. Henderson ate a few kicks. Silva took Henderson down. Silva began landing body strikes. Henderson brought the fight back to its feet and clinched, landing knees to Silva's thighs. Three minutes remained in the second round. They broke the clinch and Henderson landed a good right hand. Henderson got caught by a devastating knee and went dwon. Silva pounced on top and threw a good elbow from half-guard. Two minutes remained in the second round. Silva began landing strikes from the top. Silva landed a knee inside. Henderson offered up his back and Silva took it. One minute remained. Silva landed strikes from the top and Silva back-mounted. Silva locked in a body triangle and continued landing strikes. Twenty-five seconds remained. Silva locked in the rear-naked choke. With ten seconds remaining in the second round, Henderson tapped out.
Ad blocker interference detected!
Wikia is a free-to-use site that makes money from advertising. We have a modified experience for viewers using ad blockers

Wikia is not accessible if you've made further modifications. Remove the custom ad blocker rule(s) and the page will load as expected.