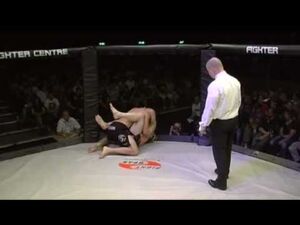 The Fight
Edit
The first round began and they touched gloves. They clinched early. Gustaffson landed a knee and they broke. They clinched and broke once more. Fadami landed an inside leg kick and ate a counter right hand. Fadami came in and got shoved away, they clinched and Fadami pulled half-guard. He has looked scared since the first minute. Fadami stood holding a single and ate some hammerfists in under. Some more as he pushed hard for the single. Some body shots from Gustaffson. Some more hammerfists to the body. Some to the face in under progressively getting harder. Fadami kept looking for it. He got Gustaffson almost down but Gustaffson was sprawling. He landed body shots. They stood and Fadami kept looking for a takedown. He went to his back and ate some shots, pulled guard after a moment. Gustaffson landed a pair of right hands. Gustaffson landed a right hand and another and some vicious hammerfists, dodged an armbar and landed more vicious hammerfists, Fadami rolled and gave up his back and ate hammerfists in under for a few until the referee stopped it.
Ad blocker interference detected!
Wikia is a free-to-use site that makes money from advertising. We have a modified experience for viewers using ad blockers

Wikia is not accessible if you've made further modifications. Remove the custom ad blocker rule(s) and the page will load as expected.