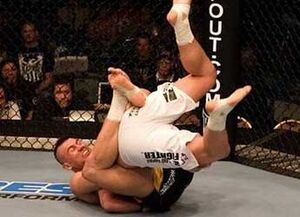 The fight was at light-heavyweight. Alan Belcher, a middleweight, actually moved up briefly to fight Sean Salmon. He took the fight on ten-days notice after Eric Schafer pulled out due to sustaining a broken rib during training.
The Fight
Edit
The first round began. Belcher looks really good at this weight. They touched gloves. They circled around, Salmon looked relaxed. Salmon pushed forward, Belcher kept away. They circled. Salmon pushed forward. He shot in for a double, Belcher pulled a standing guillotine with guard, Salmon slammed him but Belcher still had it and Salmon was forced to tap with four minutes and eight seconds remaining. Belcher leaped on the cage celebrating as Salmon remained on his knees.
Ad blocker interference detected!
Wikia is a free-to-use site that makes money from advertising. We have a modified experience for viewers using ad blockers

Wikia is not accessible if you've made further modifications. Remove the custom ad blocker rule(s) and the page will load as expected.