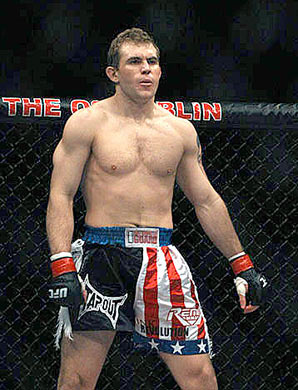 Alan "The Talent" Belcher
is a UFC middleweight contender.
Belcher won his most recent fight against Patrick Cote. He was next set to main event UFN 22 against Demian Maia. The winner was suspected to get a title shot after the winner of the Chael Sonnen vs. Anderson Silva fight faces Vitor Belfort. A month before the fight was set to occur, Belcher was forced to pull out of the fight due to the loss of vision in his right eye whilst training in Brazil. He required surgery. His career was in jeopardy and it was tight for a bit.
After a year outside of the Octagon, Belcher returned against fellow veteran Jason MacDonald. He defeated the hardened veteran via impressively brutal first round TKO. In the post fight interview, Belcher stated that he wanted to make a serious run at Anderson Silva's well-defended middleweight crown.
Belcher was next rumored to face former UFC light-heavyweight champion and fellow middleweight contender Vitor Belfort. After Belfort signed to face Anthony Johnson instead, Belcher was rumored to fight a rematch against middleweight contender Yushin Okami in Okami's native Japan. The fight didn't materialize.
Instead, Becher faced Rousimar Palhares, playing Palhares' game and outgrappling the grappler before TKOing Palhares near the end of the first round.
Belcher next signed to face Belfort again but instead he resigned to fight a rematch against Okami in December 2012. Okami dominated Belcher again en route to a unanimous decision victory.
Belcher signed in February 2013 to fight long-time rival Michael Bisping in April 2013. Bisping was outstriking Belcher en route to what looked like a certain unanimous decision victory before administering a devastating eyepoke to Belcher. The eyepoke rendered Belcher unable to continue, forcing a technical unanimous decision victory for Bisping.
Ad blocker interference detected!
Wikia is a free-to-use site that makes money from advertising. We have a modified experience for viewers using ad blockers

Wikia is not accessible if you've made further modifications. Remove the custom ad blocker rule(s) and the page will load as expected.