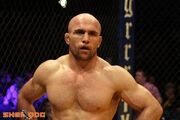 Abdul Mohamed is the former Cage Rage British lightweight champion. After Cage Rage was collapsed, the title was thus vacated indefinitely and Mohamed was the last Cage Rage British lightweight champion. He has fought such opponents as Paul Daley, Vitor Ribeiro, Jean Silva, and The Ultimate Fighter 9 alums Andre Winner and Ross Pearson.
Ad blocker interference detected!
Wikia is a free-to-use site that makes money from advertising. We have a modified experience for viewers using ad blockers

Wikia is not accessible if you've made further modifications. Remove the custom ad blocker rule(s) and the page will load as expected.